MileTime was removed from the App Store in February 2022.
The MileTime app has not been actively maintained for a few years now. Although current users will hopefully still find it useful, and I'm still happy to answer support questions, it has not been updated for modern Apple Watch screens or watchOS capabilities, and I do not regularly test it.
The rest of this page was migrated from the original MileTime site at https://mileti.me/, where it spanned multiple pages.
I may pick the app back up at some point, but, as of 2022, I no longer regularly run.
MileTime is for runners who want to race themselves or others. Pick your race distance: one mile, 800 meters, 5K, or another target, then whenever you've got a good time and place for a race, just run your fastest. No track needed.
MileTime is small and simple, with quick setup and starts, great feedback, and personal-record tracking.
MileTime tracks all your times, and your personal record (PR), by distance. During your run, it shows your current mile pace, your current estimated race pace, your time and distance, and your current location quality (mostly due to GPS, when outside).
MileTime also runs on your iPhone. You can take it running, and use the iPhone app to view and track your historical runs.
Running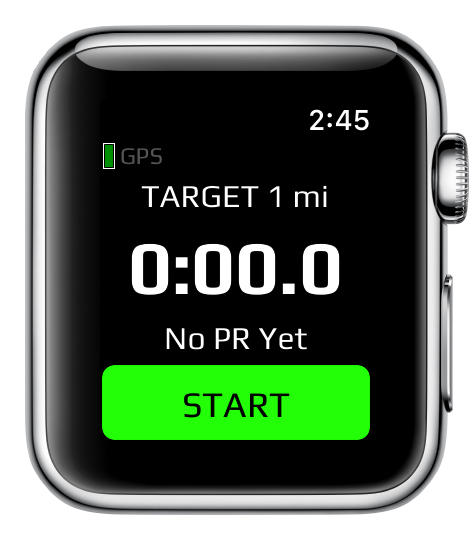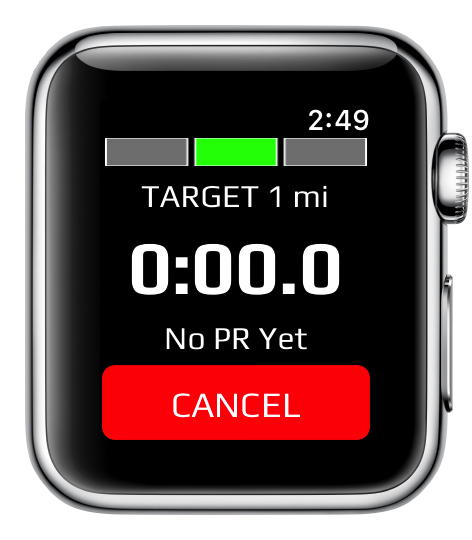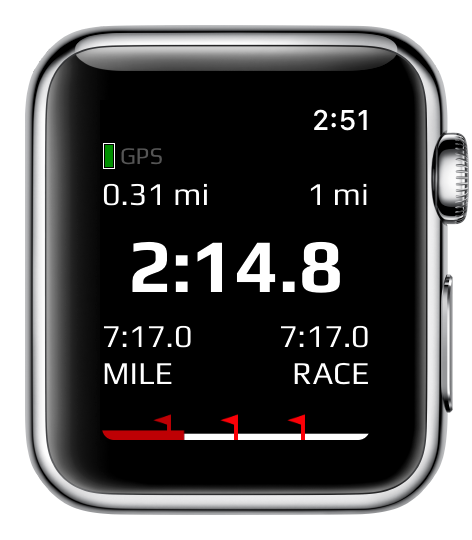 MileTime is designed to let you get running quickly, with a minimal user interface. As soon as you launch it, you're ready to run. It tells you the current GPS location accuracy, the target distance it's set for, and gives you a big green Start button.
(If you want to target a different distance, there are two ways to adjust it: you can tap on Settings on your iPhone and pick from a list, or you can rotate the Digital Crown on your Apple Watch to scroll through the choices. Your iPhone and Apple Watch automatically keep in sync with each other.)
When you're ready, press Start, and get set during the three-second countdown. MileTime gives you a tap (on the watch), then starts tracking your run. You can cancel this if you need to, but there aren't any other controls; in particular, you cannot pause a race with MileTime, just like you cannot pause any other kind of race!
MileTime shows your distance, the elapsed time, your current measured per-mile pace, and an estimate of your overall race time. But if you're taking time to look at your screen during the race, you could be running faster!
MileTime on the Apple Watch also taps you periodically when you complete a segment. For example, a 3-mile run taps you every mile; a 1-mile run taps you every quarter mile; a 5K run taps you every kilometer. These taps are meant to let you strategize your work rate.
After your run, it will save your time. It automatically keeps your time history, and tracks your top times. MileTime lets you know when you hit a new PR (personal record) for the current target distance, and marks those times with stars in its Best Times and History displays.
Canceling a Run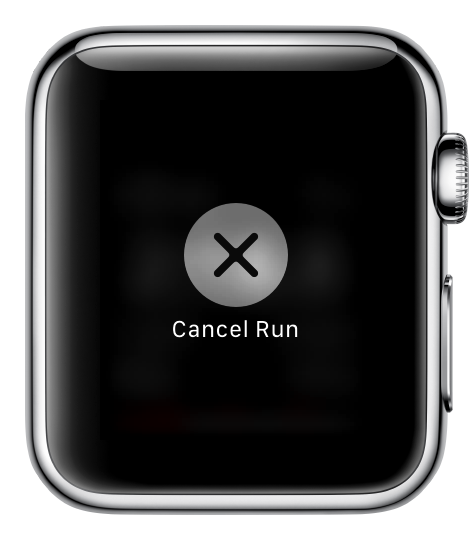 Sometimes you need to cancel a run after it's started. Maybe you hit a trail detour and won't have a good time. Maybe you just aren't feeling it, and want to shift into a training run.
On the Watch, press firmly on the screen; a Cancel button will appear. Tap it.
On the iPhone, there's a big red Cancel button.
Race Distances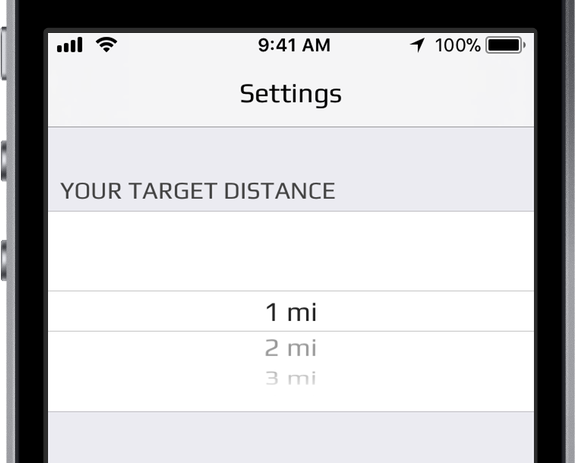 MileTime offers a fixed set of race distances to choose from. Keeping race distances to a fixed menu makes it easier to compete with yourself and compare with others. The default is one mile, but a variety of mile, meter, and kilometer distances are offered.
Other Modes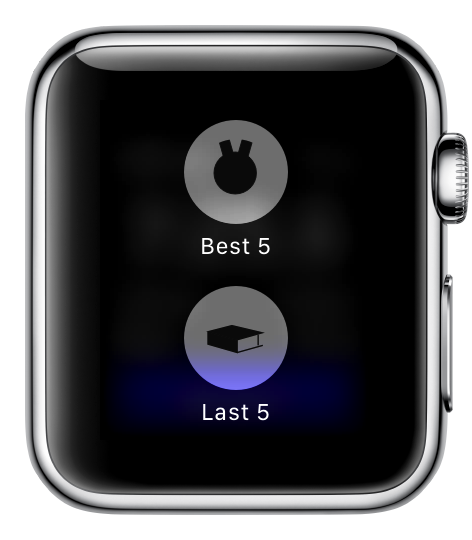 From your iPhone, you can quickly view your best times or your most recent times, and you can go into Settings to configure a few things.
From your Apple Watch, firmly press on the start page to get a brief menu to view prior times. Here, you only see the five best or most recent times for the current target distance.
HealthKit and Activity Rings
If you grant MileTime permission, it will save any runs as workouts, so you may view them in your Activity or Health apps. (If you do not give permission, MileTime will still keep your run history, but they will only be visible within MileTime itself.)
Privacy
Here's a copy of the original MileTime Privacy Policy, unchanged since publication.
The Original MileTime Website